Outpatient
Reception
Our reception for new outpatients and patients without appointment is opened from 8:45 until 11:00. Please bring the following:
Insurance card
Identification
Medication you are taking (or medication booklet)
A letter of referral
Contact information
First Time Patients
Fill in the "Patient Registration Form", available at the information counter and reception. Go to the reception for new outpatients 7, get a ticket number and wait for your turn to hand in your form.
When we have processed your form, we will call your name and hand over a file with your hospital card.
Please take the file to the reception of the department you are visiting.
And follow the instructions of the hospital staff.
If you do not have a referral from another medical institution you will have to pay an extra fee of about ¥5,500 (subject to change). The same applies for patients without referral going from our medical department to our dental clinic and vice versa.
Return Visit
If you have an appointment, please insert your hospital card into one of the return visit reception machines, located next to the round information counter. If you have difficulty using the machines, please ask at the information counter for assistance. The machine will print out a receipt with a number. You can now with the receipt proceed to the department of your visit or take any planned examinations.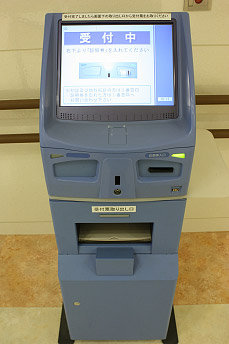 If you do not have an appointment and want to make a return visit to a department you have visited before please arrive before 11:00, and use the return visit reception machine.
In the following cases please go to counter number 8.
If you want to visit a department you have not visited before.
(please indicate the department on a patient registration form)
If you have lost your hospital card. (reissuance costs ¥150)
If your name, address, or insurance has changed.
Consultation and Examination
Please see the hospital map for the location of all the departments. When you arrive at the reception please hand over your file, and follow the instructions of the staff.
If you are a first time patient you might have a consult during which a chart with your medical history and symptoms is made. After which you will have the main consult. If you need to go elsewhere within the hospital, please make sure the staff is aware and also please let the reception know when you get back.
Payment
When you have finished all of your visits and or examinations of the day please present your file and, if applicable, your prescriptions at accounting 6.
If you need to make a payment or have a prescription for the hospital pharmacy you will receive a ticket number. When your number is displayed, at one of the televisions on the right and left of the main counter, you can pay at the automatic cashier 4, or at the cashier counter 5. Please note that especially around lunch time the waiting time can be long. We thank you for your patience.
Payments outside of normal business hours can be made at counter number 13, Emergency Room / Outside Hours Cashier.
If you do not have a Japanese Health Insurance you will need to pay the full amount up front. Please make sure you have prepared all the necessary paperwork to get the money back from your insurance before you go home. Please inform with your insurance company about the procedure to be taken.
Medication
If you do not have a regular pharmacy, you can go to a pharmacy near the place where you stay or one of the pharmacies located opposite the hospital near the zebra crossing. Please go within 4 days or your prescription is no longer valid.
If you have a prescription for the hospital pharmacy a number will be printed out on your receipt at payment. Please take this number to the hospital pharmacy 14. When your number is displayed you can get your prescription.
Medication prescribed at the emergency room is, regardless of the time, dispensed at the hospital's outside-hours pharmacy 15.